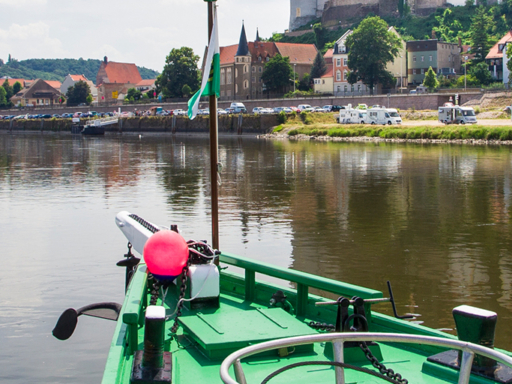 A steamboat trip from Dresden via Meißen to the wine village of Seußlitz
The "Saxon Wine Route" offers you a unique landscape. It goes past small churches and vineyards, from which Saxon quality wines come. From the water, the view of the city of Meissen as well as its Albrechtsburg castle towering high above is unique.
In Meissen, after the steamboat trip, Meissen porcelain awaits. Creative workshops are held here regularly and the museum can be discovered through a treasure hunt. Do you know if you can hear and taste porcelain? Experience it – during the "Guided tour of the senses". Because on this one, the "white gold" is explored in the most diverse ways. At Albrechtsburg Castle, there are family tours where you can also learn background information about porcelain production. Because: the castle is considered the first production facility in Europe.
Radebeul, on the other hand, is the "city to enjoy". Here, beautiful vineyards and idyllically situated half-timbered houses combine with the exciting Karl May stories and hiking opportunities. You can experience part of it during city tours. For gourmets, a trip to Wackerbarth Castle and the wine varietals of the same name is recommended. During daily guided tours there are of course also tastings. For art lovers Altkötzschenbroda is a special place to go. Especially the center with its restored half-timbered buildings, where numerous galleries, cafes and pubs are waiting for you, invites you to stroll and relax. As an adventurer and family should visit the Karl May Museum. Here, in addition to permanent & special exhibitions, there are some offers.
NOTICE:
No stop in Diesbar due to the level of the Elbe.
Dresden
1h
Radebeul
1h 15min
Meißen
40min
Diesbar
10min
Seußlitz
40min stopover
Seußlitz
Schiff dreht
15min
Diesbar
1h 15min
Meißen
1h 40min
Radebeul
1h 35min
Dresden
Dresden
Diesbar
Dresden
Meißen
Radebeul
Seußlitz
Bitte wählen
Bitte wählen
Diesbar
Dresden
Meißen
Radebeul
Seußlitz