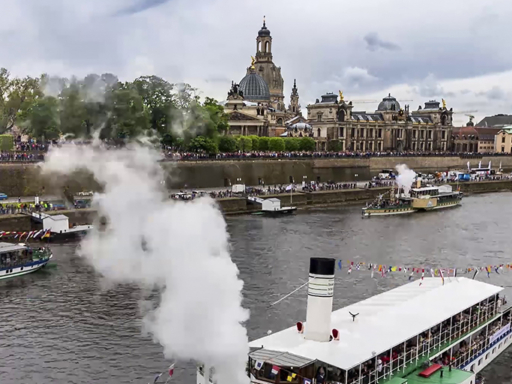 Steam off on the 31st October 2023!
We would like to "steam off" together with you!
At 9:30 a.m. you will have the opportunity to take the steamer from Dresden upriver to Pillnitz. At 10:00 a.m., 11:00 a.m. and 11:45 a.m., other paddle steamers will start their tour at Terrassenufer. The ships departing from Dresden line up in formation around noon between Blasewitz and Pillnitz, so that all four participating steamers pass the three beautiful Elbe castles Albrechtsberg Castle, Lingnerschloss Castle and Eckberg Castle together and cross all the Elbe bridges – from the Blue Wonder to the Marienbrücke. Only at the height of Dresden-Pieschen the steamers turn around, so that you can enjoy the world-famous Canaletto view at the end.
All steamers will be accompanied by live music throughout their route.
Dresden
2h
Pillnitz
Schiff dreht
1h 30min
Dresden
Bitte wählen
Bitte wählen
Blasewitz
Dresden
Pillnitz